Lesson Packages That Fit Your Schedule
We offer both private, in-home lessons and virtual video lessons. Check out the options below and contact us to get started!
In-Home Lessons
Virtual Video Lessons
60 Minute Lessons
60-minute lessons give students time to learn new material while not feeling rushed. A one hour lesson is great for beginners, young kids, and students of all skill levels who want added time to work on technique or discuss theory under the watchful eye of an instructor.
45 Minute Lessons
Our 45 minute lessons are ideal for a wide range of students - from kids just wanting to give music a shot to working adults interested in learning guitar during a lunch break.
30 & 30 Package
This package is for kids doing back to back 30-minute lessons in the same house. We created this package for families with younger children because we know that 30 minutes is best for kids that are always on the move! Great for after-school fun and learning!
Fill out our online form and tell us a little bit about what you want to play and what your preferred schedule looks like.
Our team will be in contact ASAP to discuss your options. Be on the lookout for an email from us within just one business day!
Once all the details get squared away, it's time to enroll! We'll set up your weekly lesson schedule and get you paired with the best instructor.
Start learning the music and instruments that you want to play! Our teachers come to you each week - you'll be a pro in no time.
Events with Bold Music:
Gig Nights
No stuffy recitals here. Joining the Bold Music community means you get access to exclusive in-person and virtual events to have fun and jam with other Bold Music students and instructors.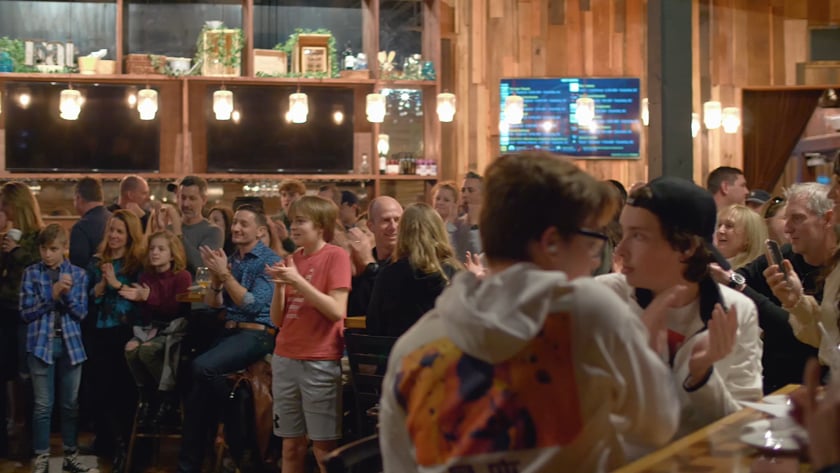 Open Mics
Perform at real open mic nights at popular spots around town.
Collaborations
Collaborate and make music virtually with members of the Bold Music community.
Recording
Record your own original song at a real recording studio.
Kids Groups
Meet other kids in the Bold Music community for fun group lessons.
Adult Groups
Play with other older students in the Bold Music community.
Jam Sessions
Get together with Bold Music students and instructors for fun jam sessions.
It's Never Too Early To Start Playing
Our Junior Jammers program is designed for early childhood students who aren't quite ready yet for private lessons.
Feedback From Our Students
Frequently Asked Questions
What instruments do you teach?
We offer lessons in guitar, drums, piano, singing, bass, flute, violin, production, songwriting...basically anything you want to learn! Our instructors can teach any style.
What happens if I can't make it to a lesson?
No worries! We offer makeup lessons via video. Just let us know ahead of time that you can't make it and we will schedule a makeup time that works for you and your instructor over Zoom.
How does billing work?
Lessons are booked on a monthly basis, so you pay for 4 weekly lessons each month. You can log into our portal to manage everything. If you need to stop lessons, we require at least 30 days notice.
Can I choose the instructor I work with?
After you submit our sign-up form, we'll give you a call to learn more about your preferences and match you with the right instructor for your schedule and what you want to learn. If you have a specific instructor you'd like to learn from, we will do our best to match you with them!