Zero Pre-Recordings, All Live Over Video.
Our instructors are some of the best musicians around and can teach any style. Guitar, piano, drums, vocals, production - whatever it is, you can learn it with Bold Music.
Whether it's after school or on your lunch break, we make sure your lessons fit into your schedule and life. Convenience is king!
That's the beauty of video lessons! As long as you have your instrument and an Internet connection, you can connect with our Bold Music instructors from just about anywhere.
Want to Learn More? Shoot Us a Message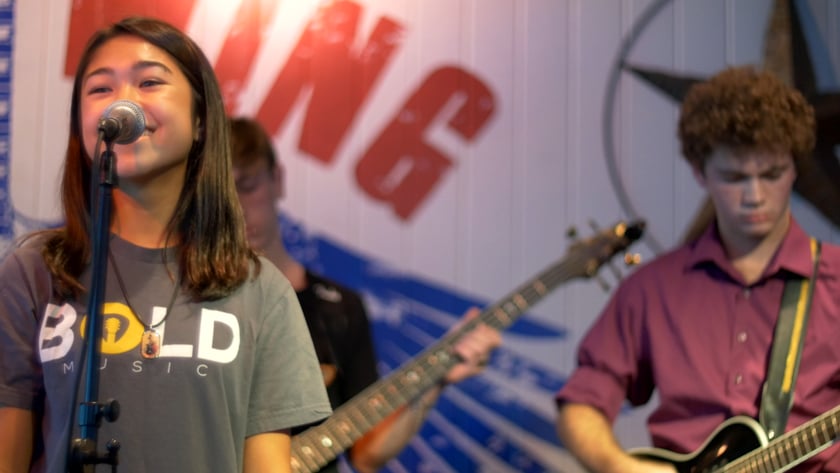 Video Lessons with a Personal Touch.
Like We're Right There With You.
We put a ton of care into our live video lessons to make sure our one-on-one instruction is fun and effective. Watch this short video to learn more about our approach and what you get when you join the Bold Music community.
Everyone Else Just Doesn't Compare
| | | Lessonface | Fender Play | School of Rock |
| --- | --- | --- | --- | --- |
| Personalized Lessons For Each Student | | | | |
| Carefully Matched Instructor Pairing | | | | |
| Live Performance Opportunities | | | | |
| White Glove Customer Experience | | | | |
| Highly Vetted Instructor Hiring Process | | | | |
Free Weekly Classes For Young Learners
Have a little one that might be too young for private one-on-one instruction? Join us every Thursday at 11am for Junior Jammers classes!
Video Lessons Are a Hit With Our Students
Yep, Live Virtual Events Too
Connect with other students and instructors in the Bold Music community for live online events and collaborations. Near our home base in Charlotte? Drive into town and join us for our live gig nights and other exciting events. Shoot us a message to learn more about Bold Music events.